LT CIO to Present in Raleigh on Digital Transformation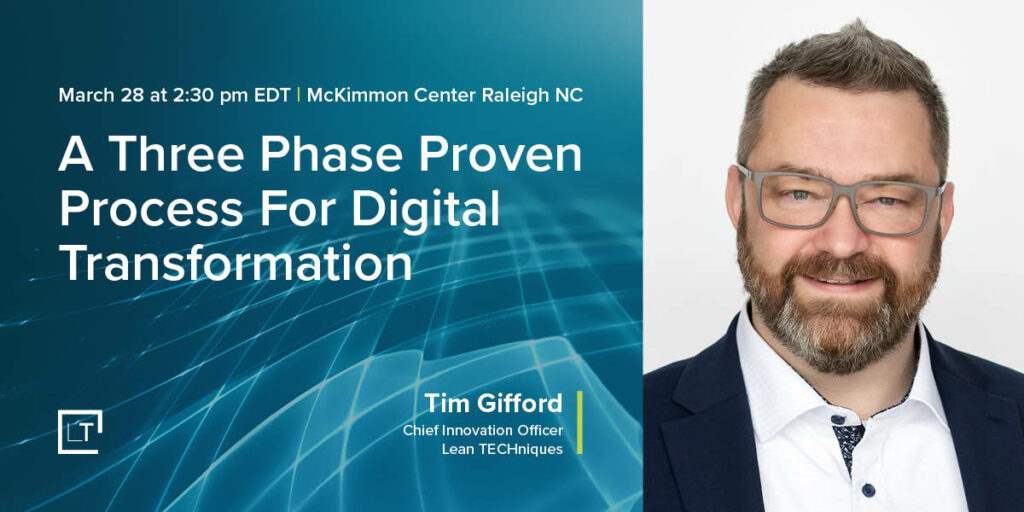 Lean TECHniques' Chief Innovation Officer, Tim Gifford, will be heading east to Raleigh, NC this month to talk about how organizations can find the alignment and focus needed for a successful digital transformation.
Tim will be presenting at TriAgile — a conference designed to develop and grow North Carolina's Agile community.
In his talk, "A Three Phase Proven Process for Digital Transformation," Tim will share a model that will help business leaders understand where they're at on their path to digital transformation and the techniques needed to delight customers with innovative digital products.
TriAgile is set to take place on March 28 at McKimmon Center in Raleigh, NC. Tim's presentation is slated for 2:30 pm EDT. To learn more and register, visit: https://triagile.com/
P.S. If you're local to Iowa, be sure to check out Technology Association of Iowa's Technology Summit on April 4. Tim will be co-presenting alongside Jeff Loomans (Senior IT Technical Excellence Manager at Vermeer Corporation) about how Vermeer began its digital transformation journey. Learn more here.
---
Interested in Tim's insights, but unable to attend his session? We'd love to share his presentation with you. Reach out below.